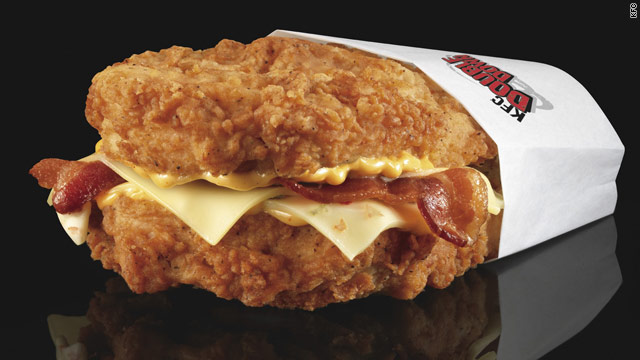 Source: Cnn.com - The KFC Double Down Waddler...
A dear college friend, Lish, for those of you who read on the regular sent me this
Cnn.com article
today. I was appalled. Yes all triple X double X pounds of me was in shock. I am a larger girl. My big is not what I consider beautiful. Although in this world there are women who are not small per say and they are absolutely healthy and gorgeous. If you haven't guessed my weight is not from sucking on a Popsicle. I LOVE food sometimes too much. And while I am a girl that will bake brownies with my perfect brownie pan and add a lil' Reeses Peanut butter cups...Wha? Don' judge me! LOL. On the inside, I do understand it is wrong .Even I can recognize (just like a professional cheerleader) when to say when.
So Lish sends me this article and I see the pic above and instead of salivating my body tenses, my arteries tighten and my heartbeats just that bit harder, so I can really feel it beat, as if to say to me " Let's keep living".
I love food. But this is not food. Even on my worst premenstrual day this would not be considered food. Sometimes I look at fast food and it has about as much appeal as would a plate of melted Tupperware. The article entitled
"Is fat fare at fast foods going too far?"
lists other caloric abominations sold at fast food chains. I marveled and faught nausea as I read on.
There is the:
Burger King: Meat'normous Omelet Sandwich
2 eggs
1 sausage patty
2 slices of ham
3 slices of bacon
2 slices of American cheese
1 Toasted Bun
Fifth Third Field Sundae called the "Fifth Third Fanatic Freeze "
15 scoops of ice cream + toppings of your choice.
Source: http://www.mudhens.com/images/info/food4.jpg
Fifth Third Field Burger
5 hamburgers in one
5 slices of cheese
1 cup of chili
nachos chips with cheese, salsa, lettuce, tomato and sour cream.
8 inch buns ( contain a pound of do
ugh)
Source:http://blogs.abcnews.com/theworldnewser/2009/03/the-burger-of-d.html
The Canadian Food regulation laws differ from the United States. Plainly put, in Canada we are not permitted to eat these type of things. It's not a societal norm and our government , while we still are served up junk, monitors what ingredients are in our products to some extent.
Though I still consider that both America and North America on a whole are under attack. Forget about planes, bombs and war heads. The killer is the North American food industry. The attack is on our diet and the battle is right at home.
At the end of the day, this is not food. And why I would need 15 scoops of ice cream at a baseball game is beyond me. Some say the Fast Food industry is laughing at the calorie counters. I say the Fast Food industry is working for Osama.
What better way to incapacitate a civilization then to poison them and have them do it themselves? Forget about the astronomical calorie and fat count of these menu items and think about the real history that is being made.