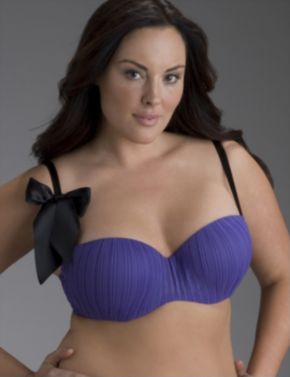 US Retailer Lane Bryant made news headlines last month when they released a new commercial for their lingerie lines. The hoopla is about the model/actress in the commercial being too sexy for TV. Why you ask???
Well the model is plus sized...Generally to hear a plus sized model was in a commercial, well that would make some cringe, or some snicker or some pout. There may be some who "enjoy" a full figured woman but generally the response is negative when people hear "plus" sized. Generally plus sized and "too sexy" don't tend to go hand in hand in North America.
In the commercial a beautiful woman is trying on her Lane Bryant lingerie. She gets a text message from "Dan" to meet for lunch and quickly rushes out in just a trench coat to make her lunch "date".While the commercial is full of innuendo it does not appear to have any more than any other lingerie ads out there. So I don't really see what the big deal is.
What I see is initially big women beautiful or not were downplayed and told to be ashamed, that their size was unattractive and that 90 pounds was the ONLY way to go. There was never account taken for the Big and actually beautiful women out there. The ones that could put a super model to shame. So now a "big"woman shows her curves in a lingerie commercial and half the stations won't air it because she should be ashamed of her BIG HOT BODY?
I am confused. One thing I am clear on is that society is quick to assign shame to women based on their dimensions alone and should that fail shame will be imposed on women irregardless of their dimensions , it will just be imposed.
BE ASHAMED! BE VERY ASHAMED! YOU ARE BIG! Then it's BE ASHAMED BE VERY ASHAMED you are BIG and GORGEOUS.
I live in Canada. There is a
SOUP or PASTA commercial
( I can't recall what the product is) where a very 100 pd woman runs to her microwave in just her pants and bra. The concept? She's getting ready to go out but before she goes she must have pasta or soup or whatever and she happens to be wearing no shirt...
...
...
If a food product can
use a skinny woman in a bra to sell food
, where is the harm in one hot big woman trying on lingerie for a lingerie AD?
Check out the Lane Bryant TOO BIG TOO HOT commercial.
Source:
DailyMotion.com
Found the Food Commercial...Uncle Bens Rice Ad courtesy of Youtube.com