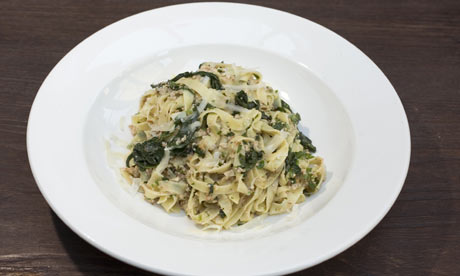 Australian book publisher, Penguin Books can tell you how to make a
mean
pasta...Literally. Their latest release, The Pasta Bible, provides details on how to make tagliatelle with sardines and prosciutto and black people...
A typo, an 'innocent' error on one page in the Pasta Bible, calls for "salt and freshly ground black people". Mistakes happen right?
Well proofreaders apparently missed this one. Although many pages in the cookbook call for salt and black pepper at some point a proof reader got confused and let it slide. I mean people and pepper look the same right?
Take a look at your keyboard. Think about how this "slip" could happen...If it didn't happen in Autstralia I may have believed the story. Regardless the book publishing is reacting diplomatically while off the record a head honcho has been quoted as saying he was "mortified that this has become an issue of any kind", adding that "why anyone would be offended, we don't know".
Source: http://www.guardian.co.uk/
Regardless this book publisher is arranging to destroy the 7000 copies they could locate at a cost of $20, 000.00 and has offered to replace any books that were purchased where the owner feels uncomfortable with owning such an item.
Now that's a recipe for good business ;)